Der kommer løbende flere billeder, så I kan se, hvad jeg går og laver.
Nye billeder er øverst!


There will be more pictures uploaded on this site as time goes, so you can see what I am up to.



12. december 2014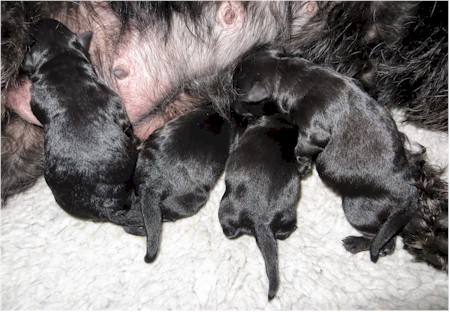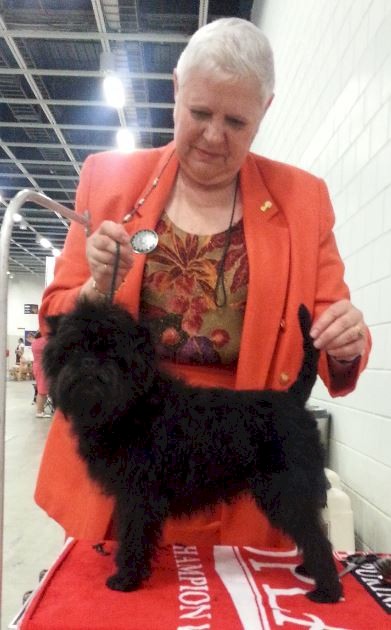 "Jo Acton" and "Collindales Kelly".


Dejlig nyhed!

Efter en lang ventetid, har My" født 4 hvalpe - 4 dejlige piger - alle sunde og raske. Tak til "Jo Acton" og Canicold, som gjorde dette muligt.

Wonderful news!

After a long wait, "My" has born 4 puppies - 4 girls - all healthy. Thanks to "Jo Acton" and Canicold who made this possible.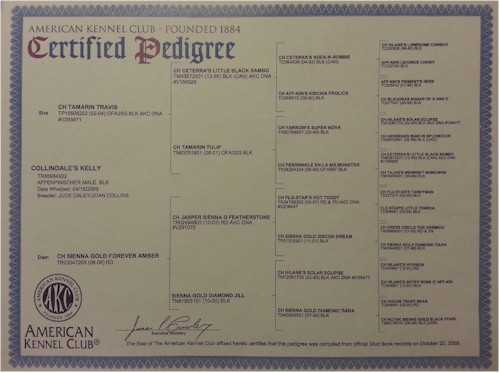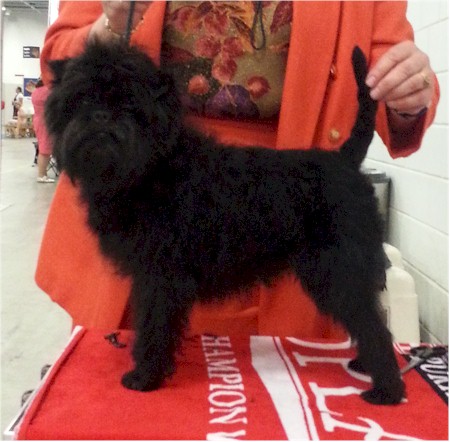 Glædelig nyhed!
"My" venter hvalpe. Faderen er den dejlige "Collindale's Kelly".

Happy news!
"My" expecting puppies. The father is the lovely "Collindale's Kelly".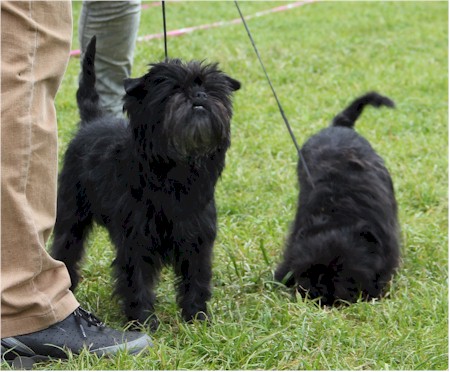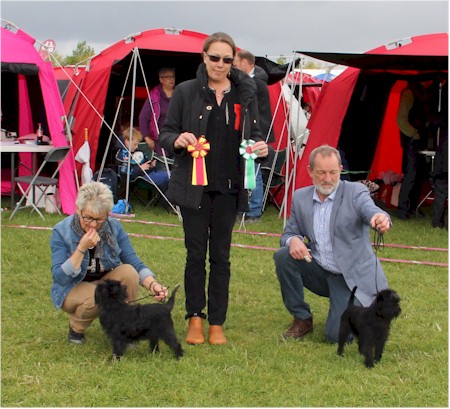 DKK Int. Dogshow, Roskilde, DK, 11.5.2014
EX1, ck, BIK1, cacib, BOB and qualified for Crufts.



"MY" aka DKCH, Leipzig Sieger 2012, NOCH, INTCH "VIACIRKA's MONKEY FACE"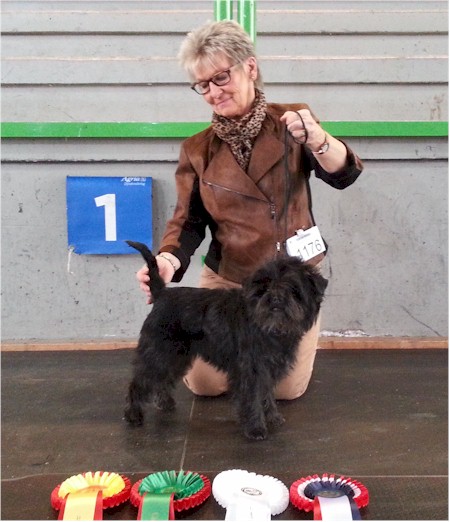 International udstilling i Kristiansand, Norge. CERT. CACIB og BIR

International Dogshow, Kristiansand Norge, cert. cacib and BOB.
New tittles NOCH and INTCH.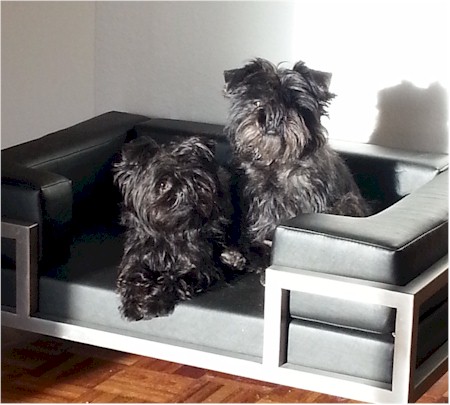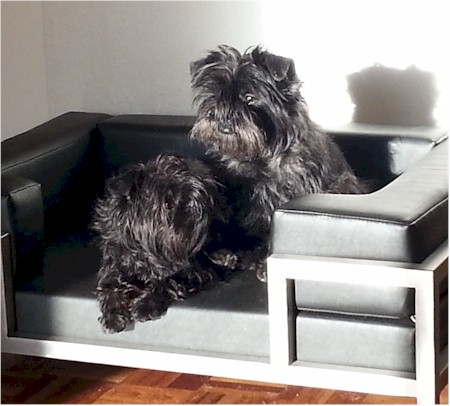 "My" and "Micro" relaxing.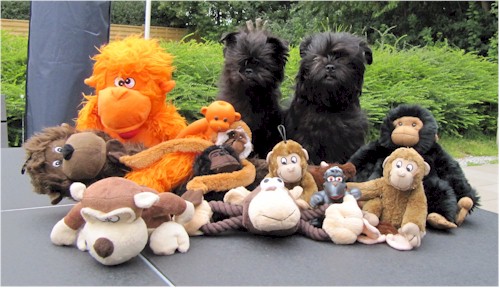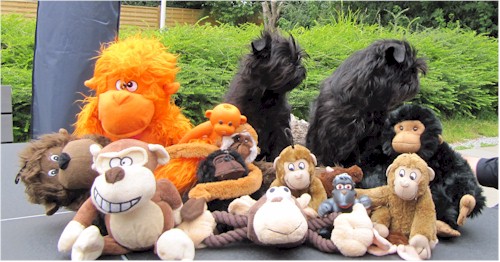 MONKEY PARTY!


Vi har været til "abefest" i Norge, det var en fin oplevelse.
My og Micro var selvfølgelig med.

My havde længe planlagt, at hun villle derop og se efter en bjerggorilla.
Pludselt fik vi travlt, og måtte hjælpes på alle måder omkring hendes ønskede dating.
Tak til Grete, Unni, Lill og ikke mindst til Anne.
My tog alene til Norge - op i fjeldet, og der fandt hun sin abe, det må jo så være en norsk fjeldabe.
Bobby hedder han, aka Schnaffentangen's Sunshine Blue, en FLOT fyr, der ikke bare ser godt ud,
han er også begavet, og så er han flot, selv når det styrt regner.

We have recently been to a "Monkey-show" in Norway.
It was a very nice and unforgettable experience. Of course My and Micro participated.

"My" had planned for a long time that she wanted to find a "gorilla" fom the Norwegian mountains.
Then suddenly we were short of time, and we had to be helped in every way to make her wish come true.
Thank you therefore to Grete, Unni and Lill - and of course Anne.
"My" travelled with Unni and Lill to Norway where she, via Grete, met her Montain Monkey in Anne's home,
and stayed there until Micro and I arrived some days later.
My's chosen one is "Bobby", or more precise,
NUCH, DKUCH, SUCH, NORDCH, KBHV12 "SCHNAFFENTANGEN's SUNSHINE BLUE",
a very nice male, not only looking good, but he is also gifted.
Even after a long day in the rain, he is looking good. Still vet, he was BIS at the show.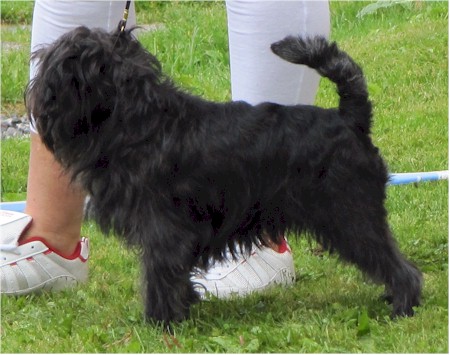 NUCH, DKUCH, SUCH, NORDCH, KBHV12 "SCHNAFFENTANGEN's SUNSHINE BLUE" ( Bobby ).

Nu venter vi bare og ser om romancen bærer frugt.
Det er vildt spændende.

Now, we just have to wait to see if this romance will give results.
Here are some photos of Bobby and also from the Monkey-show.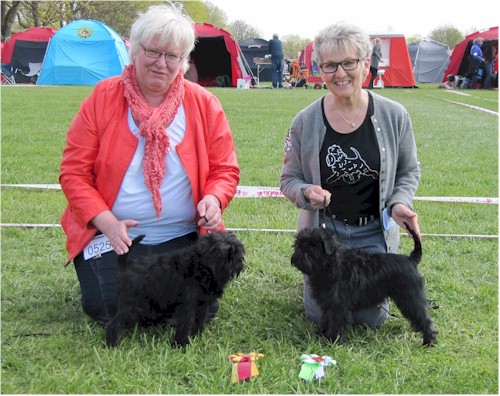 "My" d. 5. maj 2013 EX 1, ck, cacib BIM i Roskilde DKK international udstilling.
Bror "Bisse" blev BIR, så det blev i familien.

"My" 5. may 2013 EX1, ck, cacib BOS in Roskilde,DK DKK International show.
Brother "Bisse" became BOB, so we are very happy.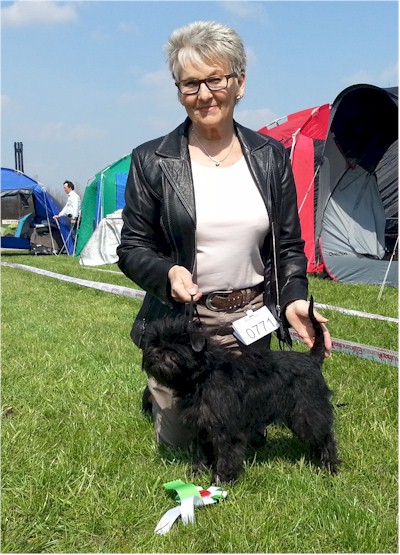 "My" d. 4. maj 2013 EX.1, ck, cacib BIM i Roskilde DKK international udstilling.

"My 4. may 2013 EX 1, ck, cacib BOS in Roskilde, DK DKK International show.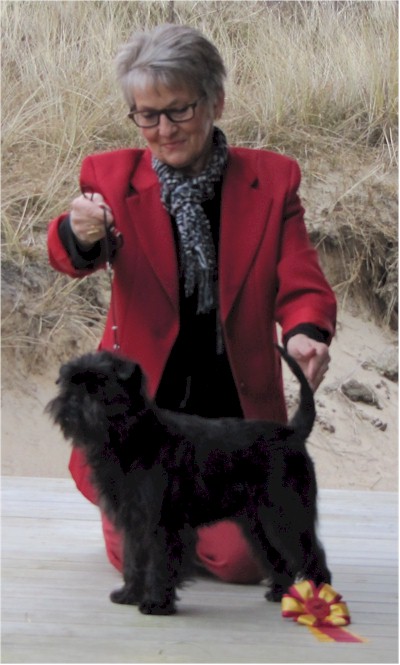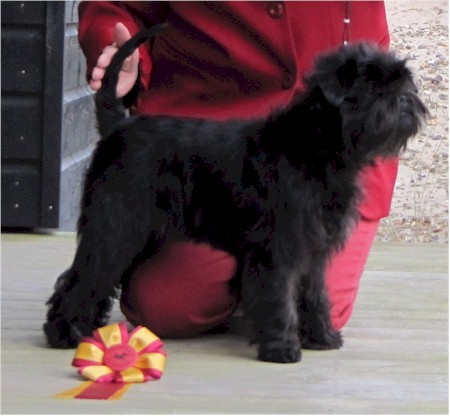 Jeg - "My" - Viacirka's Monkey Face - har lige haft fødselsdag! D. 7.2.2014 blev jeg 2 år.
2 dage efter var jeg på international udstilling i Fredericia, DK
Og BINGO - jeg er blevet DANSK CHAMPION, BOB og den første danskopdrættede Affenpinscher nogensinde, der er blevet DKCH.
Annelise var så glad!
Tænk at nogen kan blive så glad for 2 stykker pap, cert. og cacib.
Dommeren var Alex Krasilnikov fra Danmark


I - "MY" - just had my second birthday. On February 7th I turned two years old.
2 days later I was on a dogshow - the Danish Kennel Club's International show in Fredericia - and BINGO!!
I was Danish Champion, BOB and the first Danish bred affenpinscher EVER, who became Danish Champion.
Annelise was SO happy!!!
That two pieces of paper (CAC and CACIB) could make anyone so happy is unimaginable.
Judge was Alex Krasilnikov from Denmark.



Lige nu holder vi udstillingspause, men vi fordriver tiden med at tumle rundt i sneen,
og ellers venter vi på, at jorden igen bliver blød, så vi kan grave nogle huller vi har planer - vilde planer!!!!!!


Now we take a little break from the shows, but Micro and I spends a lot of time running around in the snow, and we are just waiting for spring so that the earth is softer.
Micro and I have a whole new plan for the garden that includes a lot of holes!!!





Se lige hvad jeg har fået!

Look what I got!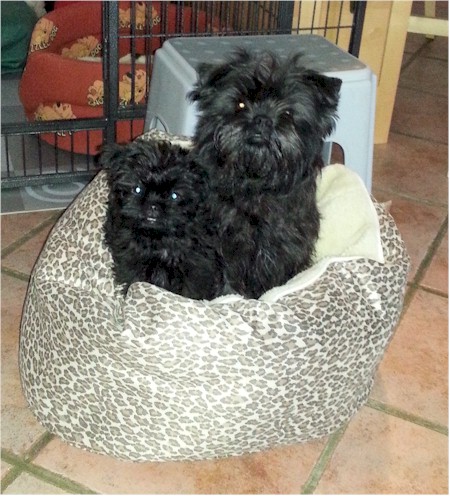 Hun er sød - og VILD!

She is CUTE - and wild.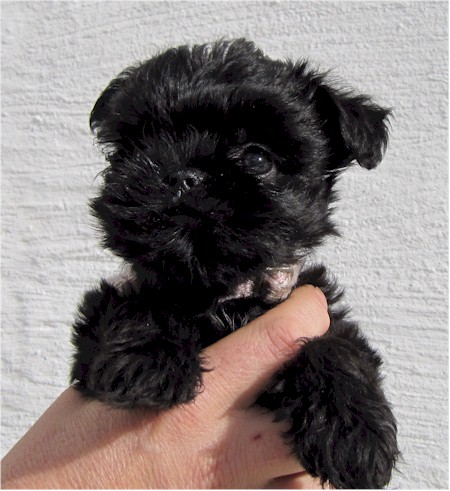 Hun kaldes "Micro" - men hendes rigtige navn er

"Laroussu's Kit Kat".
Hun er svensker!


She called "Micro", but her real name is

"Laorussus Kit Kat"


Nu er sommeren lige pludselig ovre, jeg synes det er gået stærkt.

Jeg har haft skrækkeligt travlt, Annelise har slæbt mig fra det ene til det andet, men det har også været sjovt. Her kan I se, hvordan at det er gået på de udstillinger, som jeg har været på, generelt er det gået godt.

Suddenly the summer is over - I fell like it has just begun.

I have been frightfully busy - Annelise has been dragging me from one thing to another but it has also been a lot of fun!!! Beneath you can see how the dog shows has been for me and Annelise - and I must say that generally we have had good results: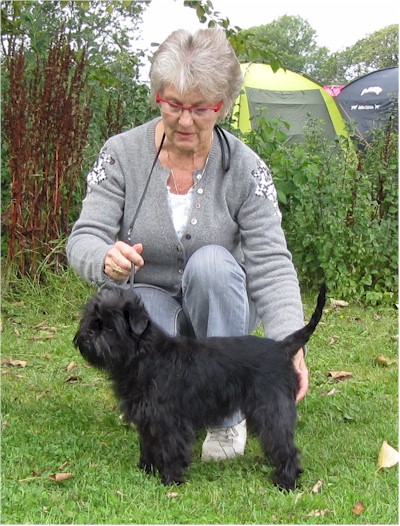 4.8.2012 International udstilling/ show i Bremen, D, V1 VDH CAC CACIB BOS
5.8.2012 National udstilling/ show i Bremen, D, V1 VDH CAC BOS
18.8.2012 International udstilling/ show i Leipzig, D, V1 VDH CAC CACIB VDH-Sieger Leipzig 2012 BOS
19.8.2012 National udstilling/ show i Leipzig, D, V1 VDH CAC BOS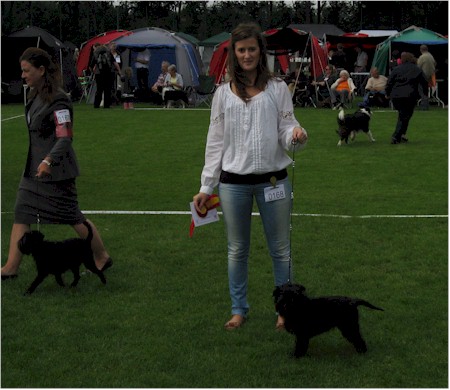 25.8.2012 National udstilling/ show i Århus, DK, EX CK CERT. BIR
15.9.2012 International udstilling/ show i Vejen, DK, EX 1
16.9.2012 International udstilling7 show i Vejen, DK, EX CK BIK3 RES.CERT.


Når jeg så endelig har haft tid til at slappe af, så laver jeg løbende om på mit byggeproject, det kræver en del hjerne, men det er jo ikke noget problem - for mig!


When I have had the time to relax I have been redesigning and building a lot of things. It takes brains - but that is not a problem for ME!!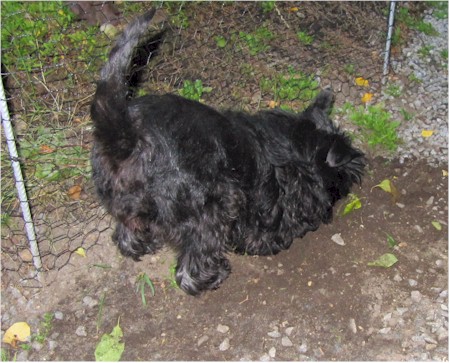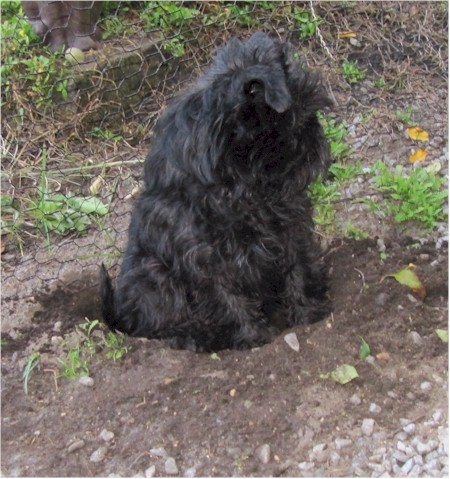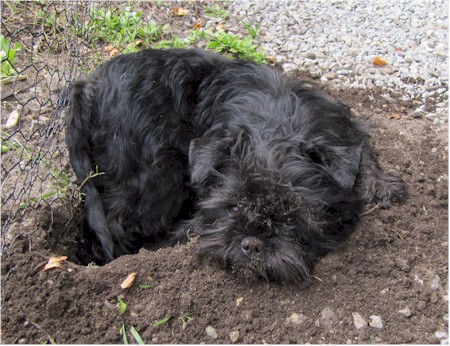 Sidste år "glemte" Annelise at tilmelde mig til Herning, jeg tror hun er ved at gøre det nu - grin - så er det da ikke for sent i år.


Last year Annelise forgot to enter me for the last show of the year in Herning. This year she will not make the same mistake - I can see that she is doing it right now - 2 weeks before the entry expires!!! THIS time she will NOT forget it - LOL!!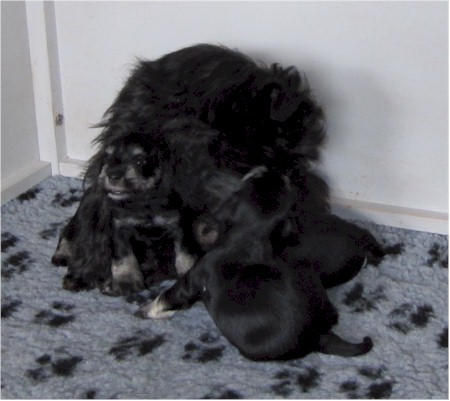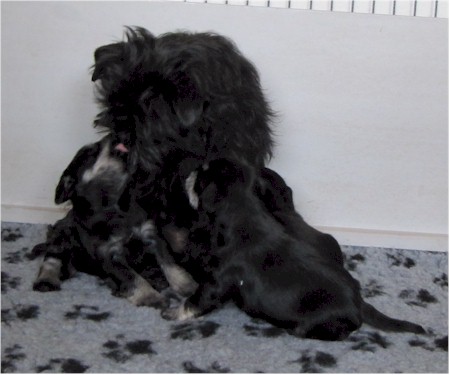 Jeg har forfærdelig meget at se til, der er ikke meget fritid - py-ha!
Fiona's hvalpe skal jo passes - jeg elsker de små minnier!
De elsker også mig, de får lov at suge sig fast på min mave, det er SÅ lækkert, men SÅ bliver Annelise sur, og siger, at det er en sag for Fiona, og at jeg må nøjes med at nusse.
Jeg snyder lidt, når hun ikke ser det - shhhhh!


I am so frightfully busy - no sparetime at all - phew.
I have to look after Fiona's puppies, some one has to! And I love the little minies!
They love me too!! They put their little mouthes on my stomach and suck - it is soooo delicious. Then Annelise gets upset and says that that is Fiona's job (all though I am very good at it) - but Annelise says that I have to be satisfied with licking them a little. But I cheat her when she is not looking - shhhh, don't tell her that.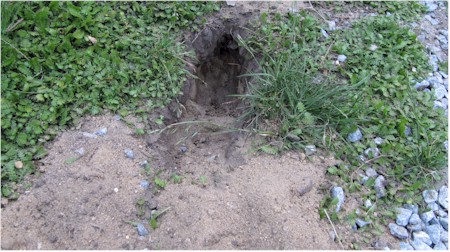 YES - mit nye project er godt igang.

It's my new hole - and it will be bigger!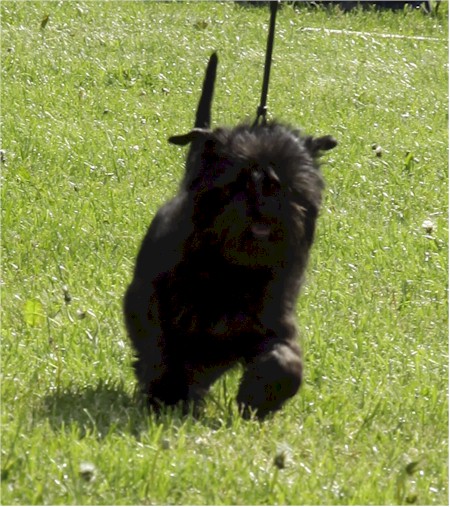 Sådan ser jeg ud, når jeg traver rundt på udstilling i vindstyrke 10!


See the wind in my hair and look at my ears!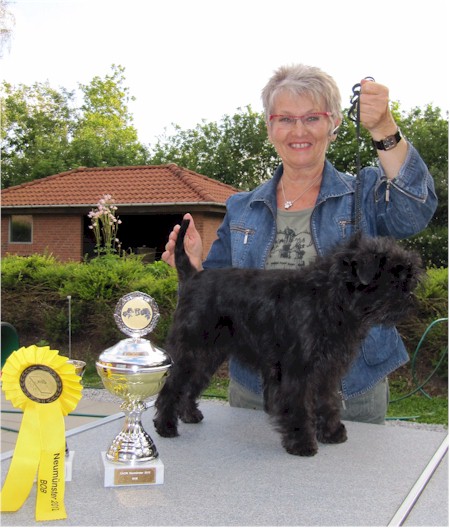 Jeg har haft en forfærdelig travl week-end!
Først stod vi alt for tidligt op og kørte til Neumünster i Tyskland, jeg skulle udstilles lørdag d. 2. juni 2012 - udenfor - i kulde, blæst og byger, tænk hvad hun byder mig!
Jeg kom hjem med en fin roset og en del certifikater, for jeg blev BOB og blev efterfølgende udtaget blandt de sidste i gruppe 2.
Nøj - hvor var jeg træt bagefter.


My weekend 2. + 3.6.2012 has been terribly busy!
First we got up way too early on Saturday and drove to Neumunster in Germany. I was to shown - outdoor - in the cold, the wind and the rain - what was my "mom" thinking ????
Well, I came home with a pretty roset and some CACs, because I was BOB and was selected in the group. Was I tired after that - I think so!!!!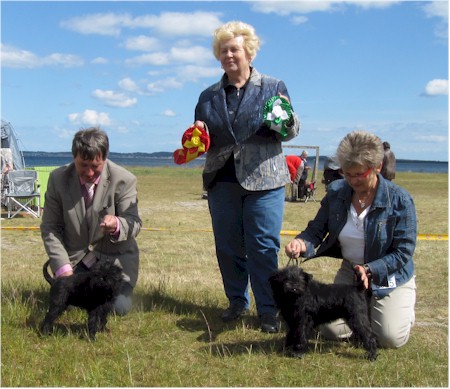 Alligevel stod vi MEGET tidligt op igen den næste dag. Nu skulle vi til Mols for at udstille. Igen var det ude, det regnede ikke, men det blæste. Jeg fik igen certifikat og blev BIM. BIR blev min bror, men han trængte vist også til det, for hans lørdag havde ikke været så sjov, som min var i Tyskland. Nu tror jeg snart, at jeg vil holde en pause, så jeg igen kan få gravet nogle nye huller ude i haven.


Never the less - next morning we got VERY VERY early and drove to Mols for another show. Again it was an outdoor show (what ever happend to nice, warm showhalls ??). It didn't rain, but the wind - phew! Again I got the CAC and was BOS. BOB was my brother Bisse, but I think he needed that because I don't think his Saturday had been as funny as mine in Germany.
Well, now I think I will take a brake - there are holes in the garden that needs to dug up again. Work, work, work and no play!!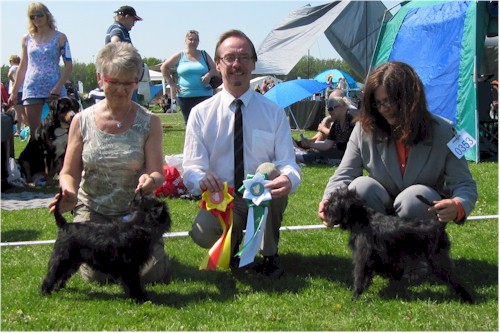 SÅ - nu har jeg igen været på udstilling, efter en længere pause, hvor vi bare har hyggetrænet lidt.
Jeg har også haft forfærdelig travlt, for jeg har været storesøster for "Zmilla's" dværgschnauzerhvalpe, py-ha - det kan godt være hårdt.
Men - i går d. 26. maj 2012 var jeg så på national udstilling i Ålborg.
Hold da så op, det var SÅ varmt, at jeg næsten ikke havde lyst til at være ude i solen.
Men min mor vil jo frygtelig gerne udstille mig.
Det gik FINT!!!!
Jeg fik cert. og blev BIR under dommer Tomas Rohlin fra Sverige, og så skulle vi senere på dagen ind i GRUPPE 2.


I have been to a show again after a longer break, where my "mom" and I have been having a good time, doing only a little training!!
I have in fact been very busy during my break from the shows, because "Zmilla", the miniature schnauzer had puppies, and I was appointed honorary big sister - phew, it has been a lot of hard work with those puppies!!!!
BUT - yesterday ( 26.5.2012 ) I was on the national all breed show in Aalborg. Oh my, was that HOT ?? So hot that I didn't really want to be out in the sun, but I had to, as my "mom" wanted so much to show me - and it went FABULOUSLY!!!
I had the CAC and was BOB - thanks to judge Tomas Rohlin from Sweden, and then we had to go into the honary ring for the group competition later in the day.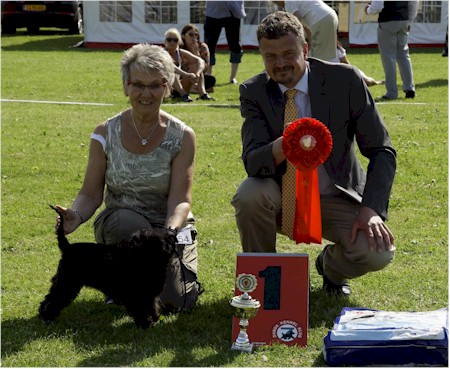 Det blev varmere og varmere, men ind kom vi da.
Vi blev udtaget blandt de 4 sidste - vildt spændende!
Og - TA DA - vi blev BIG under dommer Carsten Birk fra Danmark, DET VAR VILDT.
Så nu er jeg på banen igen!


During the day it became more and more hot, but into the honarary ring we went.
First we were a lot of dogs, then we were only four..... more and more exiciting.
And - TA-DA - I won the group! Thanks to judge Carsten Birk from Denmark!!
Now that was WILD!!!!
So kids - I AM BACK!!!!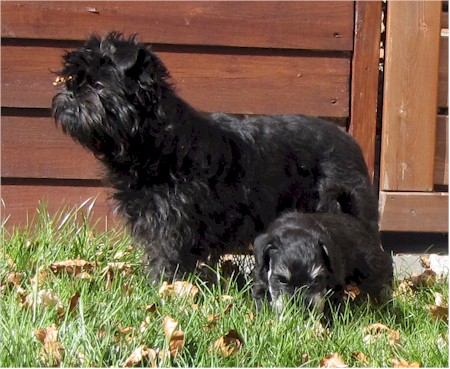 Mig og schnauzerhvalpen nyder påskesolen.

I look after the mini puppie.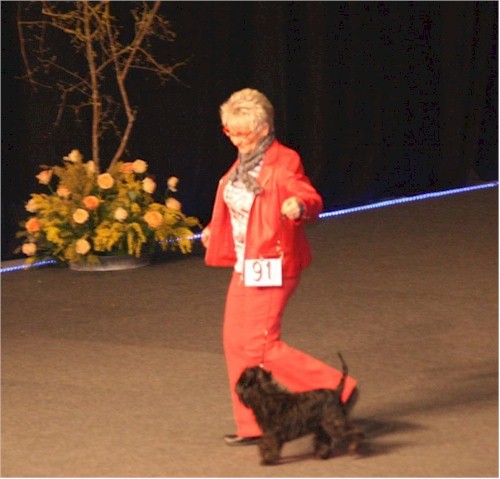 NU har jeg også prøvet at være til "SHOW OF WINNERS!

Me and my mom from "SHOW OF WINNERS 2012"!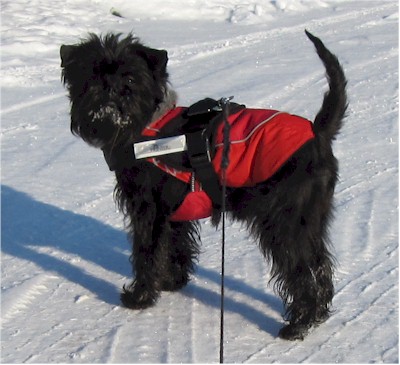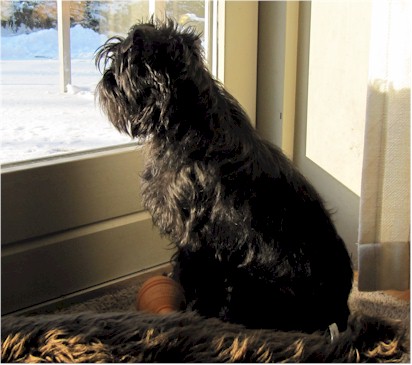 BRRRRRRRRRRRRRRR! It's cold out there!

BRRRRRRRRRRRRRRR! It's cold out there!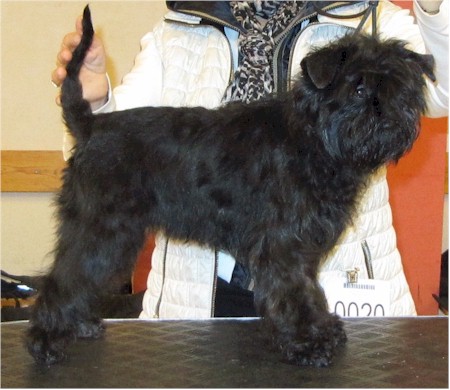 Jeg har fået mit første certifikat!
Min første special udstilling d. 29.1.12 i Li. Skensved, DK, gik rigtig godt!
Foruden certet, så blev jeg BIK 2, Bedste Junior og Best in Show junior 4
Dommeren var E. Chwalibog fra Polen, og hun kunne rigtig godt lide mig, og det var jo dejligt - så "vi" er glade.

I have got my first CAC!!
My first special show in Li. Skensved, DK went very well.
I was Best Female 2 - Bedst Junior and BIS JUNIOR 4
Judge E. Chwaliborg from Polan really liked me.............so "we" are happy - VERY HAPPY!
Best Female 1 was my mom, that's ok - I think!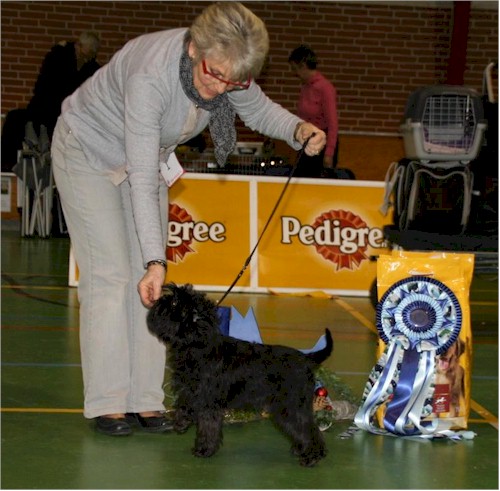 Jeg gjorde det igen!
Vi har nu været til Juleskue i Blåhøj, søndag d. 4.12.1011, og sikke da en dag!
Jeg blev BIR og BEST IN SHOW 2.
STORT tak til de 3 dommere Heidi Liebich-Lux fra Tyskland, Stinne Nørholm Elgaard fra Danmark og Jarmo Hilpinen fra Finland, I aner ikke hvor glade I gør Annelise - og min familie på Falster.


I did it again - at the open Christmas show in Blåhøj Sunday 4 December 2011. What a day!
I was BOB and BIS 2.
I want to thank the 3 judges Heidi Liebich-Lux from Germany, Stinne Nørholm from Denmark and Jarmo Hilpinen from Finland.......you don't know how happy you make my mom and my family on Falster too.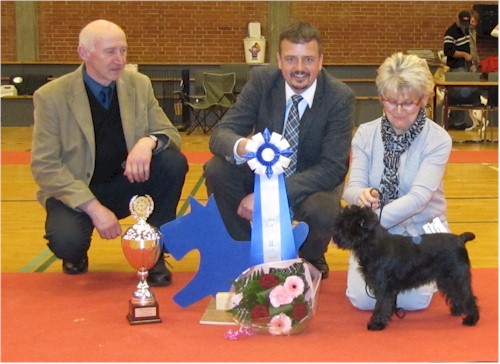 Og så tog vi til skue Spøttrup lørdag d. 26.11.2011
Jeg blev BIS JUNIOR ved dommer Carsten Birk, og - jeg blev også BEST IN SHOW 2 med dommerne Carsten Birk og Erling Kjær Pedersen.
Carsteb Birk kunne MEGET godt lide mig, det var Annelise stolt af, og det tror jeg også at Harald og Lotte er.
Jeg synes faktisk, at det er sjovt at blive udstillet.


We went for the open show in Spøttrup Saturday 26 November 2011.
I was BIS JUNIOR ( judge: Carsten Birk ) and I was BIS 2. Judges: Carsten Birk and Erling Kjær Pedersen.
Carsten Birk liked me a lot and Annelise was so proud and I think that Harald and Lotte is very proud too.
Me.......I think it is so much fun to be shown.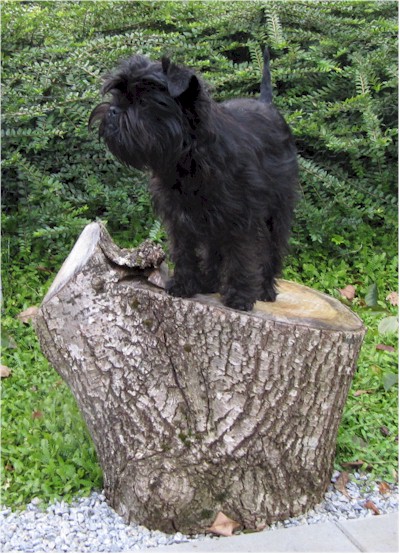 8 måneder

Først i november skulle der være dobbelt udstilling i Herning!
Jeg kunne lige nå at blive udstillet i hvalpeklassen, inden jeg blev for stor til det.
NØJ - hvor vi glædede os - Annelise og jeg.
Men ak - da tilmeldingerne kom til dværgschnauzerne, da kom der ingen til mig.
I tror det er løgn, men Annelise havde glemt at tilmelde mig - det kommer vi ikke sådan lige over igen - ØV - siger jeg bare.
Men - "the show must go on", så Annelise tilmeldte mig til 3 skuer, 1 klubudstilling og 1 international udstilling - lige med det samme, så bliver DET da ikke glemt.

8 month

At the beginning of November we had a double show in Herning. It was my chance to be shown in the puppy class before I was to " old ".
Wow.....we..... Annelise and I were looking so much forward.
But when the entry papers came for the miniatureschnauzers...........there was none for me.
You won't believe it !!! Annelise had forgotten to enter me and it will sure take some time to get over it......what can I say - bad luck or bad mom?
But "the show must go on" so Annelise signed me in for 3 open shows - one clubshow and one international show.........right away !! then she didn't had a chance to forget it.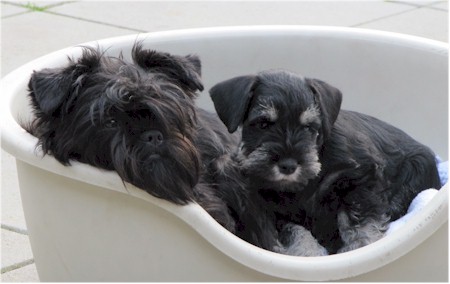 Mig og min gode ven Mogens.

Me and my very best friend Mogens.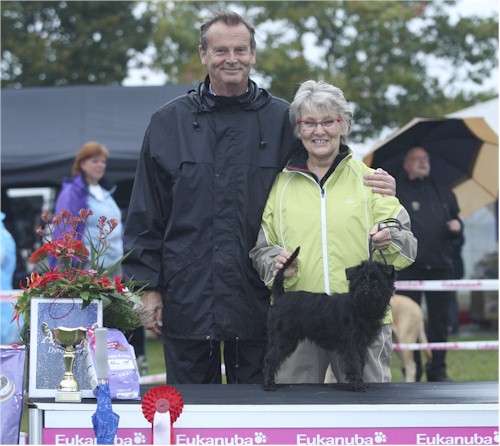 Det her er vist værd at skrive om - tror jeg nok!
Jeg er lige blevet BIS HVALP på udstillingen i Bjerringbro.
Dommeren var Hans van den Berg fra Holland, og han kunne godt lide mig.
Annelise var stolt, og det var mine opdrættere også, det tog bare lidt tid før det gik op for dem.

THIS is worth writing about - I think !!!
I became Best in Show puppy at the all breed show in Bjerringbro, Denmark!
Judge was Hans van den Berg from Holland, and he liked me!
Annelise was very proud - and so were my breeders when they finally realized what had happend - they have always been a bit slow.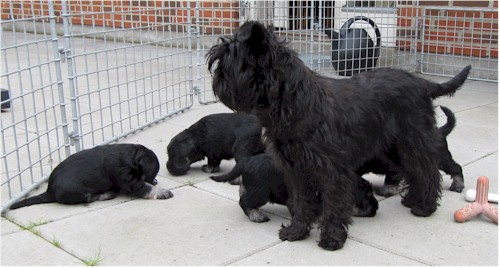 Jeg er nu 7 måneder og jeg ELSKER hvalpe.

I am 7 month old and I LOVE puppies.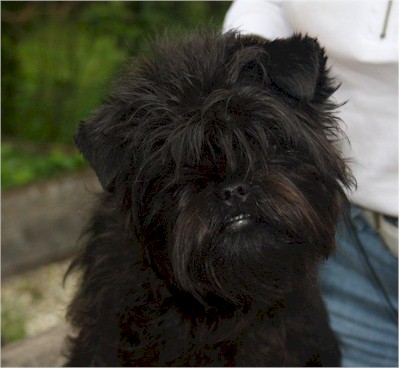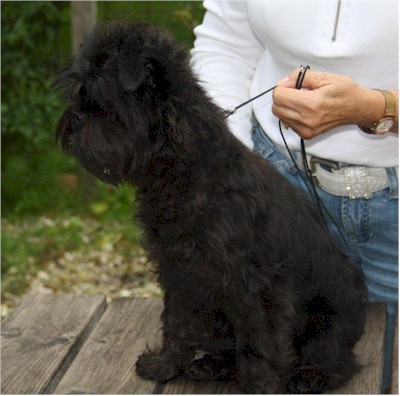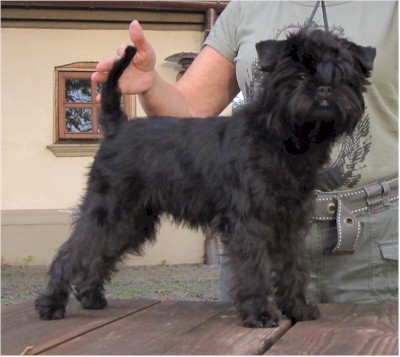 Nu er jeg en stor pige på 6 måneder.

Now I'm a big girl 6 month old.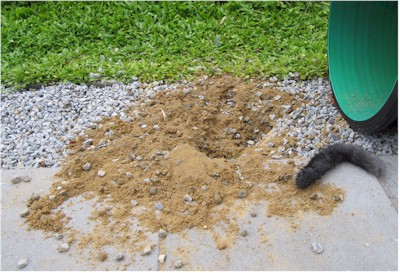 Mit sidste projekt.

My last project.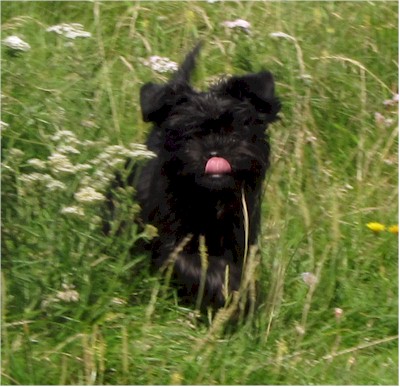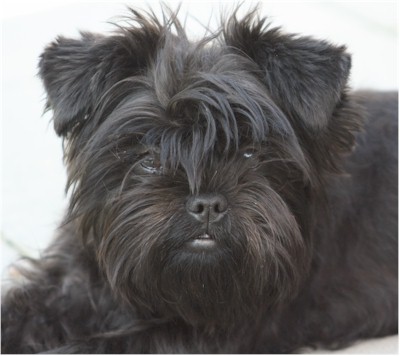 Yes! Nu er jeg 5½ måned gammel.

Yes! Now I am 5½ month old.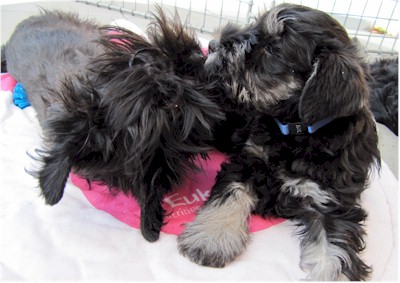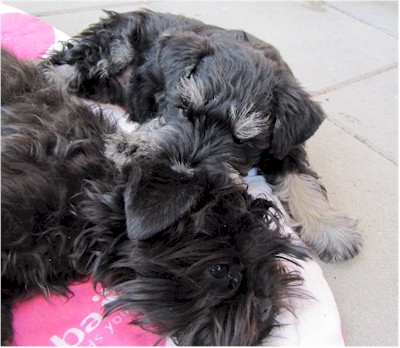 Mig "My" sammen med "Felix"

Me "My" together with "Felix"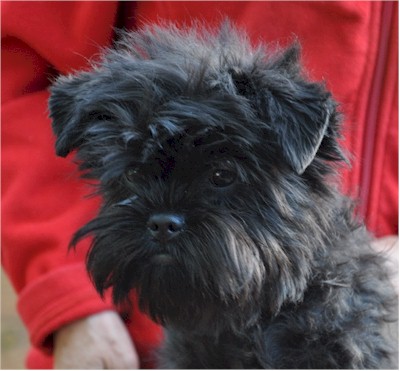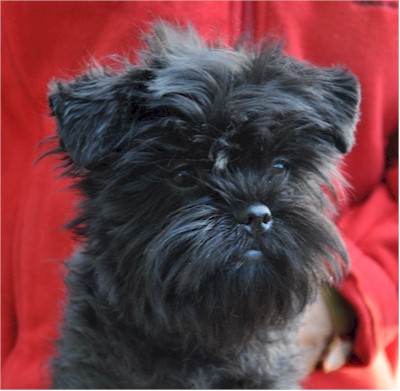 Og punkerhår på hovedet.

Punk Rocker style on my pretty head.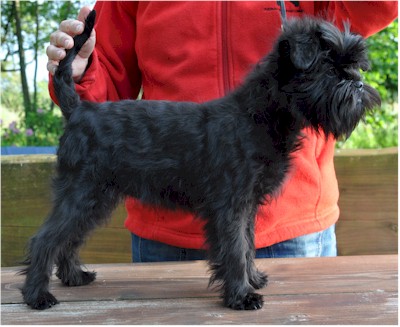 Nu har jeg fået sommerhår.

This is my summer hairdo.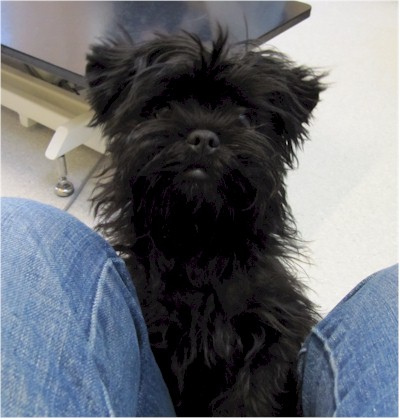 4 måneder

4 month.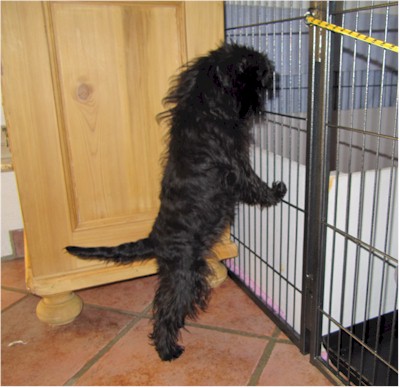 Hvor er hvalpene?

Where are the puppies?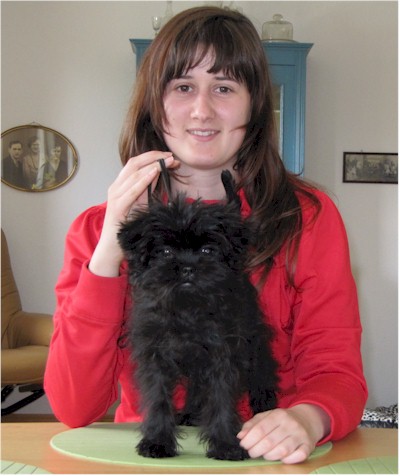 Nanna og /and My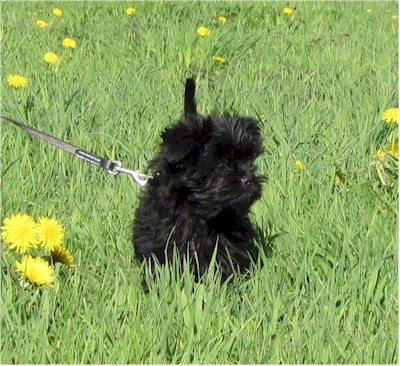 12 uger / 12 weeks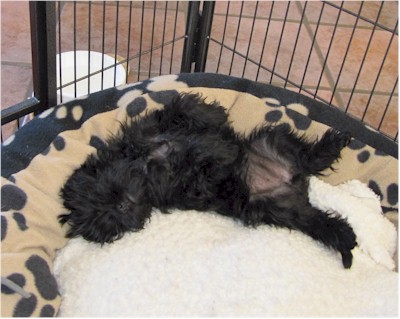 ZZZZZZZZZZZZZZZZZZZ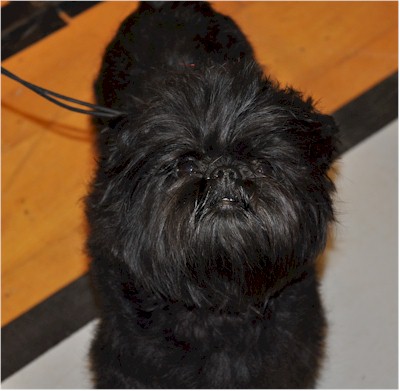 Her er så morbror "Billy" / "Billy Bongo V. Tani Kazari".
Han blev BIR, BIG og BIS2 til udstilling i Næstved, det var godt gået.

Here is my uncle "Billy" / "Billy Bongo V. Tani Kazari",
He became BOB, BIG og BIS runner up at the dog show in Næstved, well don!.


"Billy" ejes af M Cooijmans and F Rossier

Owner M Cooijmans and F Rossier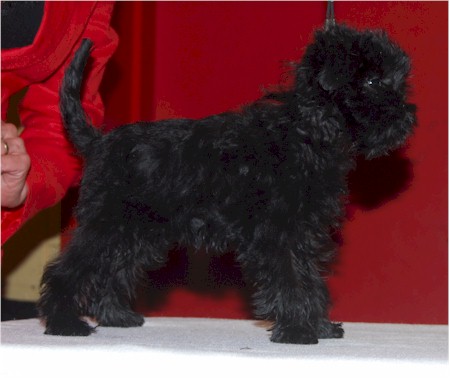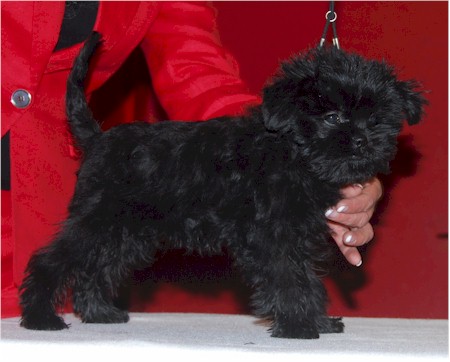 11 uger og lige stylet.

11 weeks and totally styled.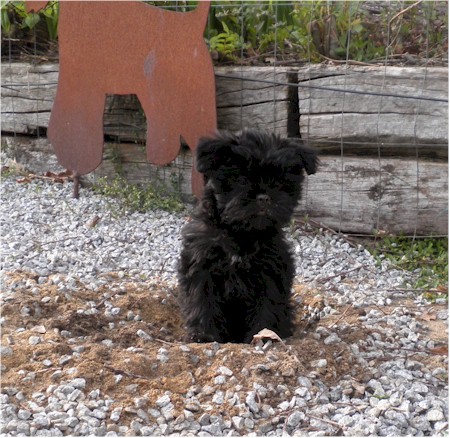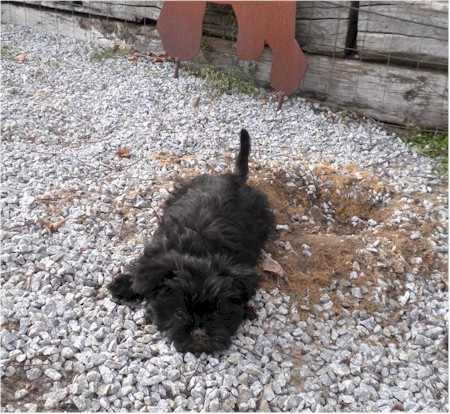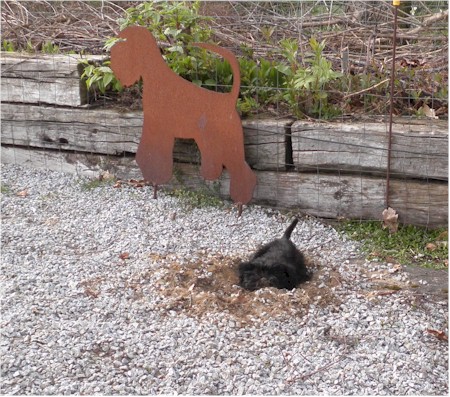 Nu er jeg blevet "gravehund" i mit nye hjem.

Now I have become a "gold digger" in my new home.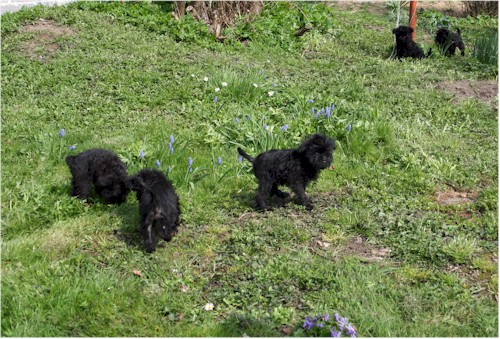 10 uger gamel. Farvel til mine søskende, som jeg har haft det sjovt med,
ovre i Stubbekøbing hos Lotte og Harald, der har kennel "Viacirka".

10 weeks old. Goodbye dear siblings, who I have had a great time with,
over in Stubbekøbing with Lotte and Harald, the ovners of kennel "Viacirka".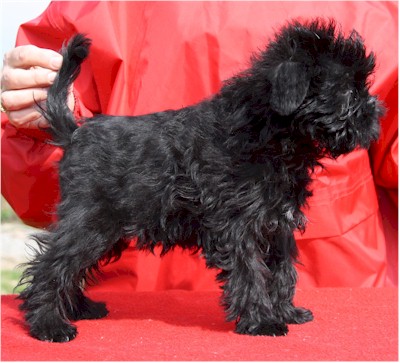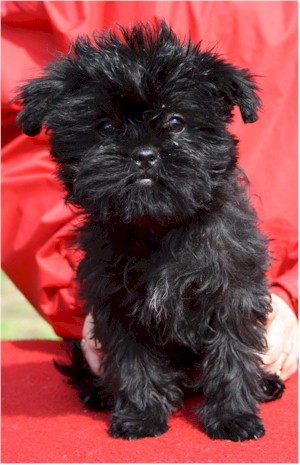 Så blev jeg 8 uger.

And so I became 8 weeks old.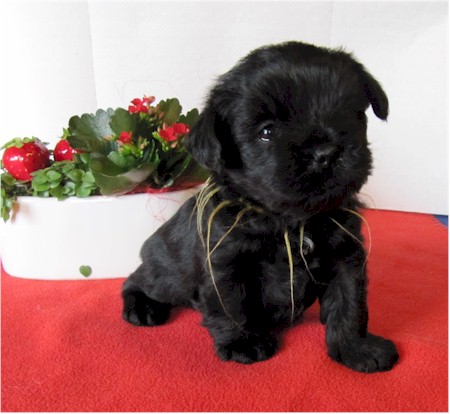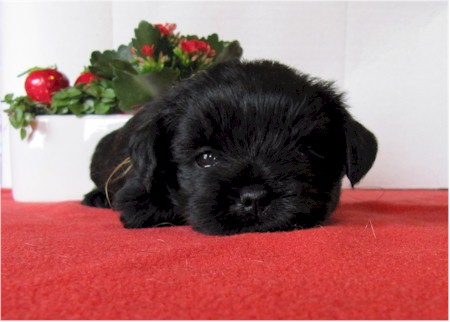 Her er jeg 4 uger, og ret yndig - siges der.

Here I am 4 weeks, and pretty cute - they say.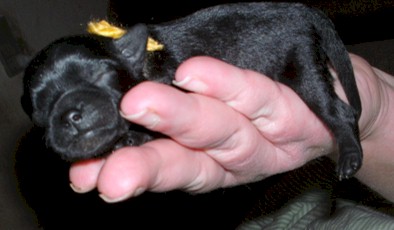 Her er jeg 8 dage gammel.

Here I am 8 days old.





Far er "Tommy" / "Tamarin Thomas"


Father er "Tommy" / "Tamarin Thomas"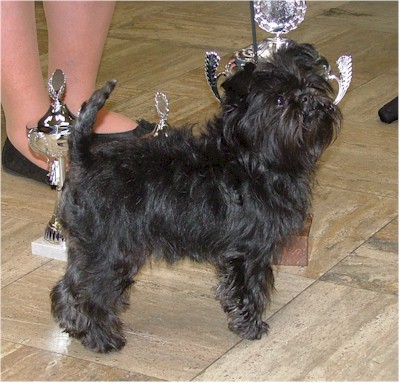 Mor "Cheeta" / "Che Cheeta V. Tani Kazari"

Mother "Cheeta" / "Che Cheeta V. Tani Kazari"



Hej

Jeg kaldes "My"!

Jeg er flyttet ind hos KENNEL NERO ARGENTO, hvilket jeg har det helt fint med.
Jeg vil her vise jer billeder af min mor og far, og også af mig selv og morbror "Billy".

Hello.

I'm called "My"!

I have moved in at KENNEL NERO ARGENTO, which I am totally satisfied with.
I will here below show you some pictures of my mother and father, and also of myself and my uncle "Billy".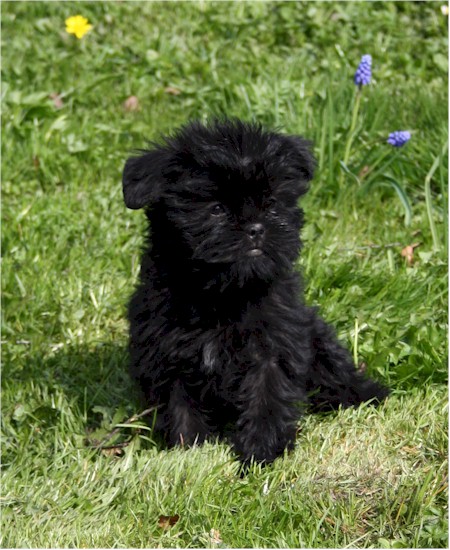 "Viacirka's Monkey Face"


Jeg har fået en ny familie, de har alle langt skæg, de kaldes dværgschnauzere, de er ok!

I have got a new family they all have long beards, they are called miniature schnauzers, they are ok!



AFFENPINSCHER CLUB OF AMERICA

THE AFFENPINSCHER CLUB UK